05.03.07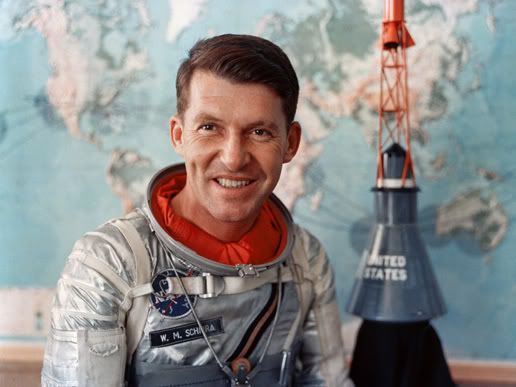 Image above: NASA astronaut Walter Schirra in his Mercury flight suit. Photo credit: NASA.

Wally Schirra, the only astronaut to fly in the Mercury, Gemini and Apollo programs, has died. He was 84 years old. Schirra's NASA career began with his selection as one of the original seven Mercury astronauts in 1959 and spans the period from Americas first tentative steps into space to the missions to the moon. Schirra flew on the fifth Mercury flight in 1962, orbiting the Earth six times. He commanded Gemini 6A in 1965, a flight with Tom Stafford that had the historic distinction of being the first rendezvous of two manned, maneuverable spacecraft. Gemini 6A and Gemini 7 flew in formation for five hours, as close as one foot to one another. Schirra also commanded Apollo 7, the first manned Apollo flight. During that 11-day flight in Earth orbit in 1968, he and fellow crewmembers Walt Cunningham and Donn Eisele tested the Apollo systems and proved it was ready to take astronauts to the moon.In what was a precursor of things to come, Apollo 7 transmitted the first television feed live into commercial networks from space during its 260-hour flight.


Image above: The Apollo 7 crew: NASA astronauts Donn Eisele, mission commander Walter Schirra and Walter Cunningham. Photo credit: NASA.

Schirras military awards included the Navy Distinguished Service Medal, three Distinguished Flying Crosses, three Air Medals, two NASA Distinguished Service Medals, the NASA Exceptional Service Medal and the Philippines Legion of Honor. He was awarded honorary doctorates by several institutions of higher learning.He was active in a number of organizations and was a founding member and director of the Mercury Seven Foundation. He also was a director of the San Diego Aerospace Museum, a trustee of the Scripps Aquarium, and a member of the International Council of the Salk Institute.




I had met with Mr. Schirra a few times. I was a volunteer at the San Diego Aerospace Museum for many years and had worked on a couple of projects that were dear to Mr. Schirra. I will always cherish those moments when I had the chance to talk with history itself.
We will all miss you.