After more than five decades in Wisconsin, the 440th Airlift Wing is returning to its roots in North Carolina, and its aircraft are wearing its historic connection to Fort Bragg and Pope Air Force Base on the tails of its C-130s.
Gone as the Reserve wing's "tail flash" marking is the badger, a mascot long ago adopted by the Milwaukee-based wing. It's been replaced by a historic airborne troop carrier emblem, "invasion stripes" that recall the unit's role in D-Day and a silhouetted outline of North Carolina.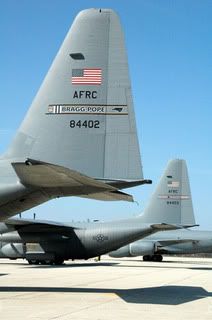 The images are side by side, bordered on the top and bottom by blue and gold bands.
The reserve unit is closing down in Wisconsin as part of the 2005 Base Closure and Realignment decisions.
The 440th was stood up as the 440th Troop Carrier in 1942 at Pope Field, where it trained with Army airborne troops at nearby Fort Bragg. On June 6, 1944, with its wings and fuselage marked with alternating black and white "invasion stripes" to be readily identified by Allied forces, it ferried paratroopers across the English Channel to Normandy.
The tail flash was a collaborate effort, with the principal credit going to Maj. Derek Poellet, a C-130 instructor pilot, Senior Master Sgt. William Westling, a C-130 evaluator flight engineer, and Staff Sgt. Anthony Flores, a C-130 loadmaster, said wing spokesman Dennis Mehring.
The unit's headquarters officially moves to Bragg on June 10, Mehring said, though training weekends will continue at Milwaukee's Gen. Mitchell International Airport until September.
"By September all our planes and most of our maintenance people should be at Pope," he said.