TROOP TALK RADIO
Give it a listen. Take a look at the page. This is real military service men and women talking about the military and more importantly, the War on Terror. NONE (nope, not even FOX) will give you any of the good news of what is going on in the WAR on Terror. You will hear good and bad because it is the real members talking about what is real to them....but at least you will hear it from them and not some reporter who knows they have to sell..and blood and destruction sells.

None of the radio stations here in my area will give them time so I have to listen online.
Hosted by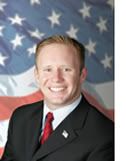 Captain Trip Bellard III born in Texas, graduated from the United States Military Academy at West Point, served as a Captain in the Army and received the Bronze Star for service in Iraq. When he went on R & R, his battalion Commander, LTC Kyle McClelland gave Trip the same advice he gave every soldier: "Tell your story. Make it known what we're doing. Show the people what you've done and the difference you've made." Trip took that advice to heart, and has taken on a new mission: to give his fellow service members a way to express their views to the American public on Troop Talk: Voice of the Troops.

If you want to voice your opinion and thoughts Call in during the LIVE show! Sunday Mornings 8am-Noon EST
1-800-984-5851

Try them out.