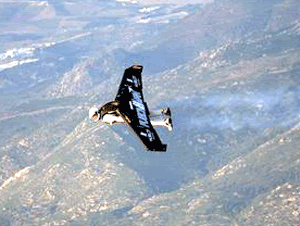 Jet man loses wing
By Helen Massy-Beresford

Originally set for March, the presentation of the JetMan strap-on jet pack to the international press has suffered a series of setbacks. The latest postponement follows damage to the wing during a test flight in Spain and subsequent bad weather.

The incident took place on Tuesday when Rossy jumped out of an aircraft that had taken off from Bex aerodrome in Switzerland.

"Yves vainly tried to recover the control of his flight, then dropped his wing, was able to open his parachute and finally landed safe and sound. Unfortunately his wing ended up damaged in a field," says Rossy's communications office.

Rossy is undeterred: "Such incidents are part of the risks of pioneering projects. And the adventure shall go on!"

The presentation has been postponed indefinitely while Rossy analyses what went wrong and repairs the wing. Rossy has been working on a version capable of vertical climb, take-off, and aerobatics since the maiden flight of the Jet-Man jet pack in 2004.

Rossy, who now flies Airbus aircraft for Swiss International Airlines, formerly served as a fighter pilot in the Swiss Air Force.
DATE:27/04/07
SOURCE:Flightglobal.com


This guy is NUTZ huh...but what a rush that would be!!